FloMaster, the affordable necessity! Always the contractor's choice for cost-efficiency, these units provide the power, convenience, dependability, and timesaving features you've come to expect from all M.D. Manufacturing units since 1961. However, to be as cost-effective as possible without sacrificing our commitment to excellence, we have eliminated all unnecessary, external frills such as decorative trim, utility inlets, and fancy brochures.

Standard features include:
The finest electrical components (Lamb/Ametek motors, Basler transformers, and Honeywell relays);
A 4-stage filtering system (combining cloth, mesh, foam, and paper elements);
A large trash capacity;
Optional utility inlet;
And a rugged 20-gauge, steel-welded construction.
FloMaster gives you power, long-lasting dependability, low maintenance and, because all germ-laden air is designed to exhaust outside your living area, you get optimum health benefits. In a busy world, that means a better, cleaner job in less time!
110 Volt
Motor

MD
Part#
Max
Airwatt
Max
Amps
Waterlift
at 0"
opening
CFM at 2"
opening
Volt.
Height
Weight
Trash
Capacity

For homes up to 5,000 square feet

M32
2 by-pass
motors
(119413)
5.7", 2-stg.

102FM
554
(1 1/8"
opening)
16.0
84"
184
120
28"
36 lbs
8 gal.

For homes up to 4,000 square feet

M72
1 by-pass
motor
(116472)
5.7", 2-stg.

112FM
404
(7/8"
opening)
11.7
107"
112
120
32"
32 lbs
8 gal.

For homes up to 2,000 square feet

M31
1 by-pass
motor
(119413)
5.7", 2-stg.

113FM
274
(3/4"
opening)
8.0
84"
94
120
30"
30 lbs
8 gal.

For homes up to 5,000 square feet

M45
metal motor
1 by-pass
motor
(116765)
5.7", 3-stg.

114FM
484
(7/8"
opening)
13.5
137"
101
120
34"
34 lbs
8 gal.

For homes up to 1,800 square feet

M55
(Quiet version available)
1 by-pass
motors
High
Performance
5.7", 1-stg.
111FM
419
(7/8"
opening)
12.5
89.5"
137
120
20"
17 lbs
5 gal.
Outside venting available for all units except M32 and M55.
All units are 14" diameter except the M55 is 11.25" diameter. All units have 4-stage filtration.
CFM vs. Waterlift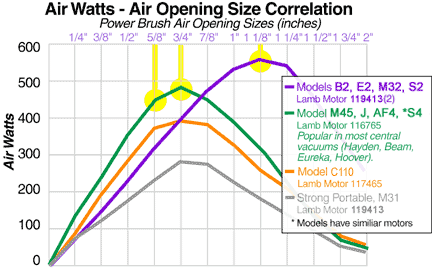 Read the Vacuumology article for fuller understanding and to view comparison performance graphs. Here is the short version: CFM is defined as the Cubic Feet of Air per Minute that is moved through a specific size opening. In the vacuum industry, this is usually expressed as a standard size of two inches. Waterlift, on the other hand, is the vertical distance that same power source (a vacuum motor) is able to lift a column of water up a sealed tube (the water creates the seal), through the power of suction.
As the size of the opening (orifice) gets smaller, the waterlift increases and CFM decreases. Conversely, as the opening gets larger, the waterlift decreases while the CFM increases. Depending on the power unit these differences can be quite substantial.
Therefore, it becomes imperative to know how the performance of each individual power unit is effected by any one orifice within a particular system.
AirWatts vs. Orifice
AirWatts or "Cleanability Rating" is defined as CFM at a given opening (orifice) multiplied by the waterlift at that same opening, then divided by 8.5.
The most critical measurements are those representing the smallest size opening through which air is flowing in any particular system. Therefore, being able to calculate the AirWatts of each individual unit and knowing the actual orifice of each specific tools, makes it possible to select the power brush best suited for the needs of that system. In essence, you are able to create the optimum package for your individual requirements.
FloMaster WARRANTY
FloMaster guarantees, unconditionally, each power unit 100% against defects in electrical components, materials, and workmanship for a period of 18 months for the M31 and M72, and 3 years for the other FloMaster units from date of purchase. Should any electrical part become defective, FloMaster will repair or replace it free of charge.
This warranty applies only to power units in residential use and does not include installation, accessory parts, or paper filter bags. For warranty work, all power units must be returned, freight prepaid, to FloMaster or serviced by an authorized FloMaster Service Center. Damage from misuse, abuse or unauthorized repairs will void this warranty.